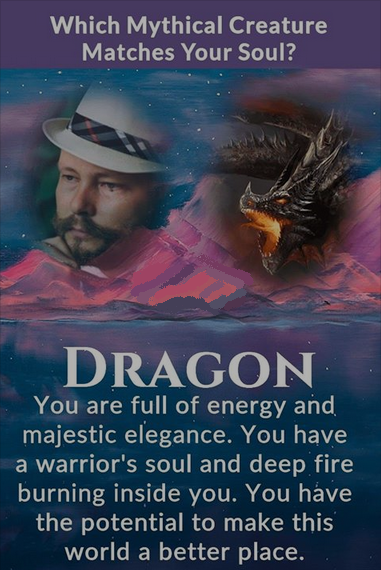 -15DW 31.79
1. The Dragon enters the clubroom, as if nobody notices.
It's been years since he last was, even tangentially, hang-around-like involved in any advanced human relations. Since that, he had been living a quiet life, with nothing much to talk about anyway. After some unremarkable activities that only casually were mentioned in the local media of the faraway lands, he felt lonely, and more than a little frustrated.
Being humble, upon entering the club, the Dragon takes his hat off (well, in fact he did not, because he looks better with a hat).
Despite his uneventful life, he generally finds that his petty stories somehow still are more worthy of general interest than those of the accomplished members of the club. So, in order to tell them to people - who soon will forget them anyway, and must thus be regularly updated - he must first introduce himself.
After all, who would even know about the countries that were accidentally burned to ashes on his wake, unless he casually mentioned them, while buying half of the wine stock in the clubroom, however carefully maintaining the entry rights to the premises. And how could anyone remember his name? The Dragon himself, has difficulty remembering people's names, so is it not logical for this to be reciprocal?
To give some credit to the Dragon, the reasons he sometimes does not remember others' names or even faces, range from him having both bad hearing, vision and memory, to that he is so eager to talk himself that he listens correspondingly less, and to the fact that he frequents 5 clubs with probably slightly different rules, while never caring to learn (or as much as inquire) of any of them. The invention of clubs of his own, feels more interesting anyway than to be a full member of "others'" clubs.
"Boys, I have this new thing!" The pallor in the faces of the knowledgeable, whitens a notch. As usually happens with The Dragon's stories opening "You know, ..." and continuing "I just almost died twice, listen - -", "Look if I manage to do X, I will earn a millionbillion", "Why this girl does this/does not do that?". Luckily most of the stories can be judged as harmless and embarrassing, and the listeners can sigh for relief.
Sipping wine and feeling outsider, the Dragon thinks that his concepts are preventing his objectives to be realised. Carefully seeking to be stealthy, he eyes the room for help in updating them, sending [the room] in chaos, by his tail sweeping most of the glasses down until they break on the floor, in the process. He offers to buy everyone a new drink - or, to be more precise - any number of them, renovate the bar, give lavish tips, create a new peerage to the owner, and issue a verbose public apology in writing, to all involved. After all, that's what every decent man, let alone dragon, would do, given the circumstances, right?
Meanwhile, a glimpse of hope flashes in the minds of the others:
- Is he finally getting it? What happens to him now? He seeks to be a funny dude, but his adventures since years back, all add to whatever he is. He has grown much, but always understood much less about himself than he needs to, wants to, and claims to.
This also surgically hits him where it hurts the most, the area of life where he feels the most behind, and therefore talks the most about. After so long time, would he accept the help he seems to be searching?
For what is certain by now, (real or perceived) ridicule and shame cannot kill this guy, rather he receives all the more tools for laughing at himself, the more he knows himself. He is predestined to feel the most stupid, to become the most wise as a result, with the ongoing process being neither the first nor the last instance in t/his worthy pursuit.